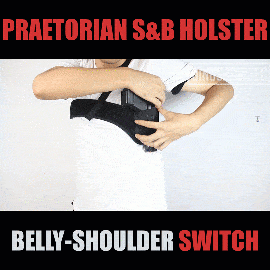 – Adjustable Strap, Fit UP-TO-51″ Chest. If you got back pain then this Praetorian Shoulder Holster is perfect for you!
Vertical Shoulder Holster Design – Firearm is point safely downward instead of horizontally

Neoprene Material – Not poking you on soft inside of your arm – Comfortable wearing for all-day gun carriers.

Ambidextrous Design – Works for Right & Left Draws.

Light weight – Concealed Carry Under A Jacket or a Hoodie, Perfect for  EDC (Every Day Carry)

Strictly tightened plastic band covering – Tightly held to your body, Fast Gun Draw
"IF I WERE TO EVER NEED TO DRAW THE PISTOL IN ANY SEMBLANCE OF A HURRY, I WOULD BE DEAD…"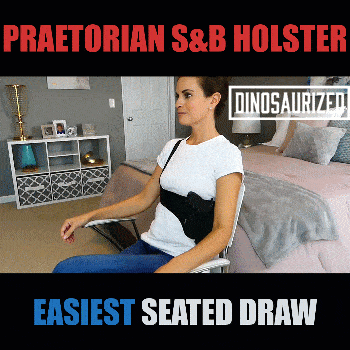 – Many other holster brands nowadays don't care about those real-life situations
– Their holsters are just too bulky, hard to wear, slow for gun draw.
– Praetorian S&B Holster is the most "natural" and fastest seated drawing holster. 
– It's a strictly tightened plastic band covering your belly, hip or chest or wherever you want. 
– Praetorian S & B's quick-drawing design helps prevent the "bad guys" from any reaction and provides you 3-5 "upper-hand" seconds for your self-defense..
REAL PEOPLE WITH REAL PRODUCTS